Apple Game Development
If you are not showing off your smartphone features and stunning 3D Graphic Apps, then you are considered old fashioned in the market! Apps development has become a lucrative business and it has become a rapidly growing business.
Apple Phones have really exclusive games. The need for the iPhone Game Development has increased immensely. Today games are nearly 25% of the popular demands in apps. And nearly 70% of users need popular games on their devices. So the need forcompanies dedicated to making iPhone Game Art and 2D & 3D iPhone Game Development, has increased. So Saama is completely dedicated to this art.
Apple Game Genres
We develop all kinds of Apple Games Genres.
Educational Games
Casino & Dice Games
Family & Kids Games
Strategy & Word Games
Racing & Sports Games
Action & Adventure Games
Puzzle & Arcade Games
Cards & Board Games
Learning & interactive apps
Apple Game Development Technologies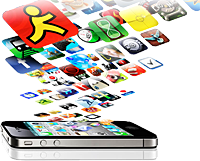 Apple Game Development Technologies are being providedby Expert iPhone Game Development Team at Saama. They are able to design apps that are helpful for Internet sharing between friends. They work with Apple Game Development Technologies like unity 3D game engine, cocos 2D, UIKit, core Animation and also Open GL. In designing we are using 3D Max, Maya, Flash,Photoshop,Illustrator.Games are made more exciting with superb audio sound. Saama uses Open Al, MediaPlayer framework and AV Foundation and also the AudioSession in the Apple Game Development to develop the best gaming apps.