About Saama
Saama transforms real life scenarios in Mobile Solutions by offering a unique blend of Knowledge, Creativity and Technology.
Saama is a unique and cutting edge technology based solution company that serves innovative mobile solutions with unique user experience.
Our efforts on the mobile solutions are focused on developing highly innovative and engaging applications that are covered with new concepts in the market and we believes to bring return on clients satisfaction with our quality work. We are developing world class quality.
mobile applications by considering the apps development trends with quite latest technologies and special emphasis on product creation.
Over mobile solution front, we are among the company front runners and first to develop applications for some of the platforms, including Apple (iPhone / iPad) and Android platforms.
Our real passion for the mobile apps is not only makes us stand out amongst other companies but also keep us enabled to observe latest trends and developments and foresee the future in every application of mobile technology in day to day lives of people.
Portfolio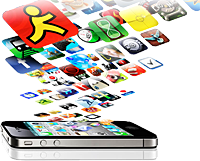 Mobile Game Apps - iPhone / iPad / Android Game Apps & Utility Development are Saama's expertise, we have the dedicated team of core experts, having years of experience and delivered many mobile apps to the clients successfully...