Google Android Games
Android has seen exponential growth in terms of market penetration and so has been the growth of Android game development. We have realized the potential of Android OS and our android game developers have been keeping reasonably busy developing interesting Android games. Besides being extremely sound with the technicalities of Android game development, our game developers get the complete support of our award winning graphics design team and in-house QA team to develop the best in class Android games.
One of the major challenges of android development is the varied devices with a wide variety of screen sizes. Our Android game developers have managed to tackle these issues with expertise and deliver games that are entertaining and addictive to end users.
What is the Mobile Technology...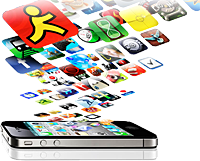 Mobile technology is a collective term used to describe the various types of cellular communication technology. Mobile code division multiple access (CDMA) technology has evolved rapidly over the past few years. Since the start of this millennium, a standard mobile device has gone from being no more than a simple two-way pager to being a mobile phone, GPS navigation device, an embedded web browser and instant messaging client, and a handheld game console.